Site Acquisition
Site Acquisition
We are the pioneers in site acquisitioning in the telecommunication services industry in Sri Lanka.
Site Acquisition services outsourced by various telecom operators are undertaking by our site acquisition team. We are competent in providing following services to our clients.
Site Search and Inspection Our experienced and qualified technical team searches the most technically appropriate physical locations according to given requirement. Apart from this, the engineering team conducts inspections to enhance better telecommunication transmission coverage at the end.
Legal Search With our qualified team of lawyers we are in action to wrap legal status and verifications of selected lands and produce legally relaxed environment to construct a telecommunication tower.
Block out Survey We also conduct block out surveys with our qualified and licensed surveyors and produce site-specific drawings – site survey plan and blue prints.
Local Authority Approvals We obtain necessary legal approvals of following government authorities towards structuring a telecommunication transmission tower.

Telecommunications Regulatory Commission of Sri Lanka (TRC)
Ministry of Defense Sri Lanka (MOD)
Board of Investment (BOI) / Central Environmental Authority (CEA)
Civil Aviation Authority of Sri Lanka (CAA)
Urban Development Authority (UDA)
Local Authorities such as Pradeshiya Sabha, Municipal Councils and Urban Councils.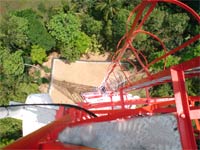 Environmental Protection License (EPL)We also undertake services towards obtaining EPL for existing communication towers and new towers going to be erected in the country.

Submission of new Application/ Renewal Application
Follow up Pre-Evaluation of the Application
Field Inspections
Submission of test report with Recommendations (Earthing /RF)
Obtain Approval for EPL/Appeal against refusals
We are the only company registered in Central Environmental Authority (CEA) as Earthing and RF Measuring Lab in Sri Lanka.