Site Development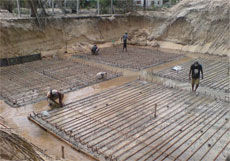 Site Development
Our team at Site Development undertakes all types of civil works for telecom and radio transmission sites. We always conform to thorough attention towards construction procedures including soil testing and designing to ensure a solid.
Foundation work of ground based towers along with shelter.
Foundation work of roof top towers along with shelter.
Special construction work such as retaining walls in hilly sites
Fencing work, guard room, and approach road etc.