Proposition – In-Building Solutions
Having a good mobile network coverage within a building plays an important role in attracting and retaining mobile subscribers within the building/s. Especially in the workplace, Airports, Hotels, Convention centers, Hospitals, Banks etc. If the service provided is more stable, it tends to add more users to the mobile service providers.
To meet this ever-growing demand, building owners are finding it of paramount importance to deploy a strong in-building wireless solution. As a result, addressing the coverage, quality and capacity requirements of In-Building users is mandatory.
A building may not receive adequate mobile coverage from outdoor cell sites. This is because in most cases the signals present outside the building are unable to penetrate the building material, consequently resulting in poor coverage within the building. A typical problem in high rise buildings is the problem of interference, where at higher floors a full network presence is detected but a call cannot be made successfully due to interfering signals. In addition, crowded areas like Malls, Airports, large Commercial complexes need a dedicated system to handle the capacity requirements for the large   number of calls at such locations.
To answer the challenging responsibility, a well-planned in-building coverage system is required.  With 3G, it's vital to keep control of interference levels, and buildings with walls, limiting the signal distribution, provide a natural barrier against interference. In-building solutions allow in moving the capacity inside the building without any trouble.
IBS Services
ATSL provides the following services
Site Survey
Design
Implementation
Commissioning
Testing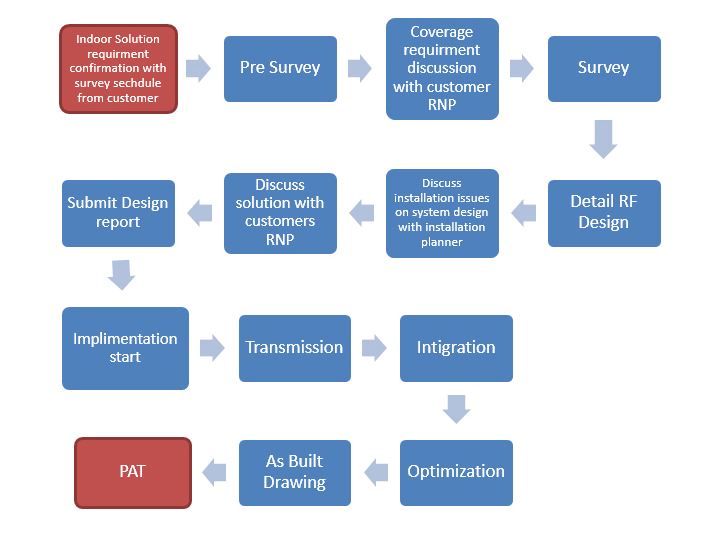 Site Survey
Preparation of site details after visiting to the site
>Including Site Location/Address/Drawings/Permission availability
Equipment Room
>Space requirement with multi band site equipments to be installed
MW Link Location
>Suitable position/s for fixing the Transmission Outdoor units
Main Power Supply
>Nature of availability (single phase/three phases) & Tapping Locations
Pre-Walk test
>Representing the current situation & dimensioning of signal strength & capacity
Deciding on Coverage & Antenna positioning
>Areas of the building to be covered with priority
Cable Routing
>Methods of Cable laying using Cable Risers/Ducts/Trucking/Ladders…
Site Photos
>Add effectinv support for Implementation/Maintenance/Modifications of DAS
Detail Design
The RF design shall be based on the site survey results and shall be followed with the main ideas of indoor solution in TSSR. This Covers;
Coverage planning
Capacity planning (cell planning)
Link budget planning
Antenna planning
The design Report shall include the following information,
Introduction
Design Summary

Number of Omni Antennas
Number of Panel Antennas
Number of Sectors

 Building Information

Building / block Description and Floor Usage
Proposed Equipment Locations with photos
Proposed Microwave pole locations with photos
Proposed power tapping locations with photos
Technical Design
Sectorization Plan
Plots of proposed antenna locations and cable routes
Test transmitter results
Coverage Prediction plots for each and every location
Combining arrangement/s
Trunking Diagram/s
EIRP Table
Material List
Implementation
Installation of RF Feeders in accordance with the design
Installation of PVC conduit/casing/flexible for the feeders
Installation of GI conduit/GI Flexible/PVC coated GI flexible with mounting accessories
Installation of Cable Trays
Installation of Clamps for mounting accessories
Installation of cable trunks
Drilling – Core/Impact according to the condition
Color Matching of PVC Casing/Conduit/flexible
Installation of Jumpers (1m/2m/3m)
Fixing of connectors
Installation of DAS Passive components
Splitters/Couplers/Hybrid-Couplers/Combiners (Duplexer/Triplexers)/Dummy Loads
Supply & Installation of Earthing of DAS Passive components at Equipment Room (Hybrid Couplers/Combiners)
Installation of Antennas
Labeling
Testing
Checking installation of DAS with required finishing & Conditions
Measure VSWR values for each sector
Perform Optimization Walk test
Prepare As-built drawings as per requirement
Hand Over reports including implemented conditions